Books by Jay Tuck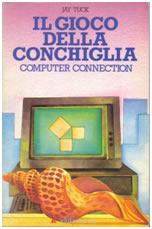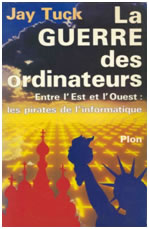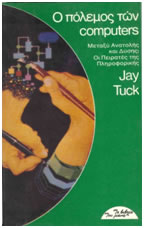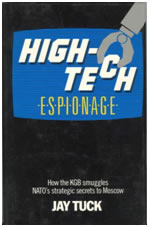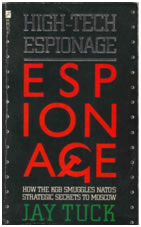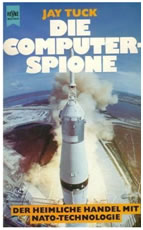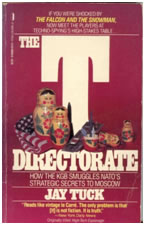 "His narrative races along like a good thriller. The stories are fact, not fiction - as disturbing as today's headlines."
"Reads like vintage le Carré. The only problem is that it is not fiction. It is truth."
"A picturesque world of dead bodies and blackmail, burglaries and snares set for the KGB...Brrrrr!"
"Jay Tuck paints a fascinating picture of how NATO secrets turn up in Moscow."
"Gripping, recommended reading!"
"Anyone concerned with the security of the West should read this book carefully."
"In the style of today's best espionage writers."

Kirkus Reviews
Daily News, New York
Le Nouvel Observateur, Paris
Daily Mail, London
Computerwoche, Munich
Beststellers, New York
Daily News, Palm Beach
A French counter-spy penetrates the inner circles of a Soviet espionage ring - and is found dead on a deserted road in the Alps; an eccentric California inventor launches a high-tech enterprise from his garage - and sells one of America's best-kept secrets to Soviet spies. The theft of NATO technology is their number one priority - more important than political or military espionage - and their stunning success threatens the very foundation of western defense.
Hamburg-based American journalist Jay Tuck has traced the cloak-and-dagger tale of computer espionage across the American and European continents, interviewing eye-witnesses, military experts, even some of the smugglers. His authentic account is an East-West thriller that for the first time throws light into the murkey world of microseconds and megadollars where embargo-runners pursue their dark trade.
An Authentic Spy Story

Published in Fourteen Countries

The First Copies Were Purchased by Federal Prosecuters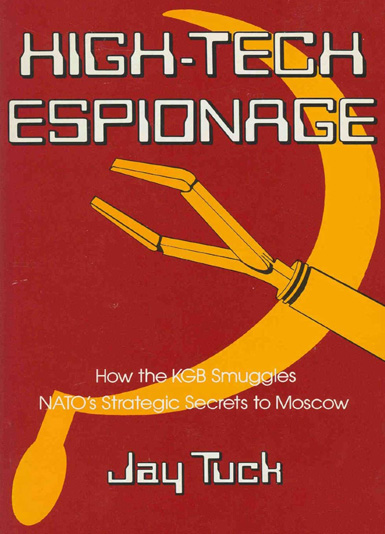 St. Martin's Press, New York
New York
New York
London
Heyne Verlag, Munich
ADN Kronus, Rome
Plon Publishing, Paris
Roes Publishing, Athens
High-Tech Espionage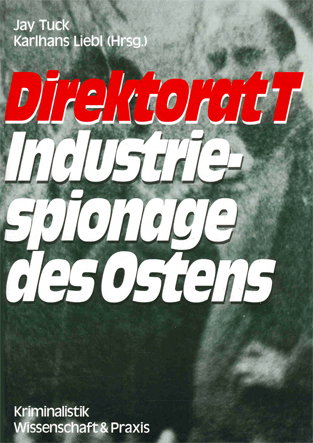 Direktorat T
The Industrial Espionage of the East
Edited by Jay Tuck & Karlhans Liebl
THE BOOK THE RUSSIANS TRIED TO STOP:
The Soviet Embassy intervened at the German Foreign Ministry in an effort to ban publication of "Direktorat T".
Foreign Minister Hans-Diedrich Genscher responded "We don't prohibit books".
"Direktorat T" exposes the inner workings of a global Russian spy network dedicated to the theft of NATO high-technology. With exclusive contributions from federal prosecuters, a former Soviet spy, US Defense Department, German Counter-Intelligence Verfassungsschutz and the White House, this book offers authentic, high-level insight into the secret world of Soviet espionage.
---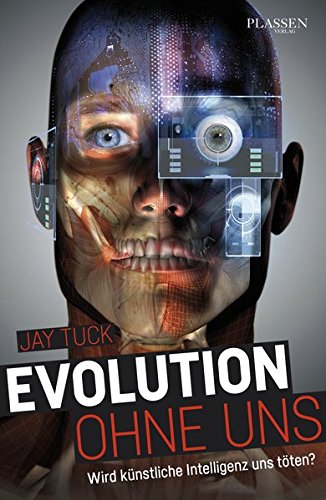 In den ersten drei Tagen bei Amazon ausverkauft!
Evolution ohne uns

"Eines der spannendsten Bücher des Jahres!" (Playboy Deutschland)

"Ein wichtiges Thema, ein wichtiges Buch!" (Der Aktionär)

"So geschrieben, dass jeder es versteht." (RBB Radio Eins)

"Ein grandioses, ein erschreckendes, ein wichtiges Buch!" (Buch der Woche, Roter Reiter)

Unmerklich drängt sich intelligente Software immer tiefer in unser Leben. Zunehmend übernimmt sie Aufgaben, die früher menschlichen Spitzenkräften vorbehalten waren. Künstliche Intelligenz ist "the next big thing". Täglich übertragen wir intelligenten Programmen immer mehr Verantwortung im Management und in der Medizin, in der Energiewirtschaft und in der Nahrungsversorgung, sogar in der Kriegsführung. Und sie macht ihre Sache gut. Was aber passiert, wenn wir ein intelligentes Wesen kreieren, das dem Menschen weit überlegen ist?
Seine Augen sind die weltweit vernetzten Überwachungskameras.
Sein Wissen ist das vollständige Internet.
Sein Arsenal sind die SmartWaffen der Supermächte.
Seine Intelligenz ist klüger, als wir je verstehen werden.
Werden wir immer Darwins Darling sein?
---